A guide to locations where retro Vegas still exists.
Restraunts, Bars, Lounges, etc.
Peppermill Lounge and Restaurant, Since 1972 – 2985 S. Las Vegas Blvd. (a.k.a. The Strip)
A true Las Vegas Classic, The Peppermill opened its doors on the Las Vegas Strip back on December 26th, 1972. Consistently listed as a "Best of Vegas", the Peppermill Fireside Lounge has always been one of John Goad, Jr.'s (of The Goad Team) favorite hot spots. He often describes the Peppermill to others as a "Las Vegas Classic, that is cheesy, elegant and romatic…in such a good way." The Peppermill has two seperate areas, which are distinctly different from one another. The restaurant side can be described as Denny's Diner on Las Vegas Steroids, with waitresses in traditional (yet colorful) diner sytle uniforms. While the Fireside Lounge side is like stepping back in time to the 1970's when Vegas was about glitz, glamour and elegance…with of course lots of neon. To this day the bartenders still dress in tuxedos and the cocktail waitresses are dressed in elegant gowns…and are often voted the most attractive cocktail waitresses in town. The highlight of the fireside lounge is the fire & water pit, with flames that rise above the bright blue water for a relaxing and romantic vibe. A few years ago the Peppermill installed TV's above the firepit playing loud music and displaying music videos, and this killed much of the nice, quiet and romantic vibe that once existed around the firepit. But all in all the Peppermill is still a Vegas staple, and a "must see" when in Sin City.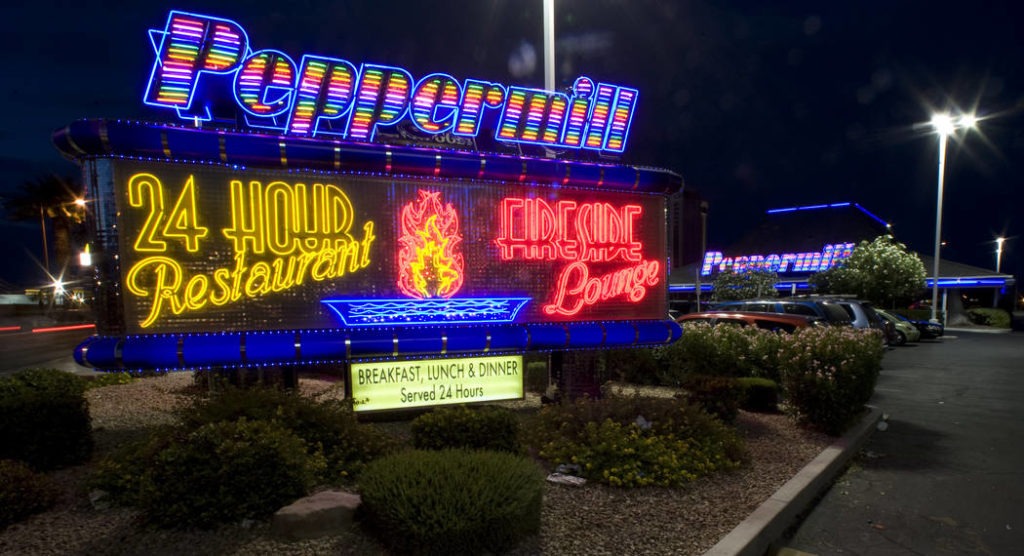 The Mint Tavern – 332 W. Sahara Ave.
While The Mint Tavern is not actually a "retro bar from back in the day" it does pay homage to the Rat Pack days of Las Vegas. The Mint Tavern got it's inspiration from the "good old days in Vegas" when the Mob and legendary sheriff Ralph Lamb ran the city, as well as when The Mint Hotel and Casino had one of the most iconic neon signs in town. Being a huge fan of Vintage Vegas, when John Goad, Jr. saw the remake of the iconic sign on The Mint Tavern…of course he had to check out the place. John says "It was a bit disappointing that there was not as much of a Vintage Vegas atmosphere inside the tavern as there was on the outside, however it is still worth a visit." While in the area go a few doors down to have dinner at the Golden Steer Steakhouse…a true Las Vegas classic and the oldest Steakhouse in town.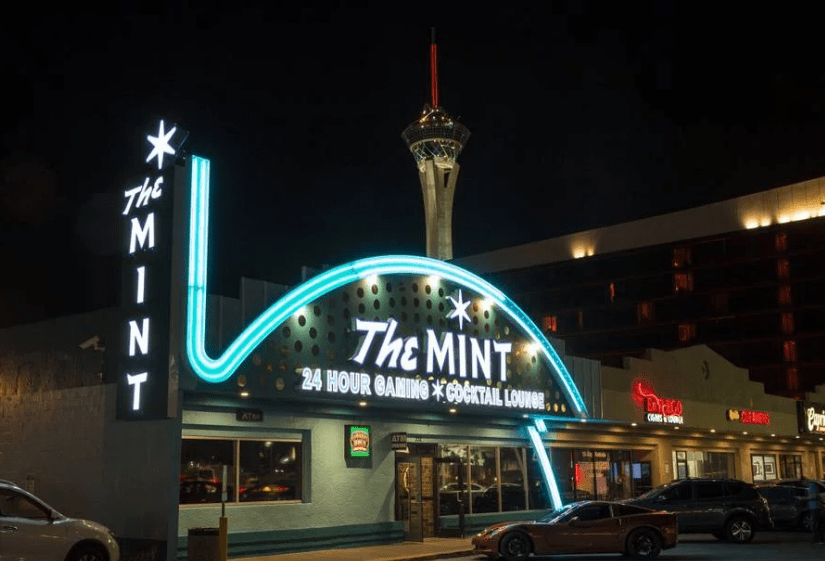 Ichabod's Lounge, Since 1987 – 3300 E. Flamingo Road
Remember the days of "Supper Clubs" that featured fine dining options at affordable prices, along with upscale lounge style acts to enjoy while you dined and socialized with friends, family or business assoicates? It's to bad those days are long gone right…well not so fast!!! Ichabod's Lounge opened it's doors back in 1987, and has captured the essance of stepping back in time to an old school Las Vegas Supper Club. John Goad, Jr. stated "while the food is nothing to rave about (it's good, just not great) the atmosphere, the lounge entertainment (piano and jazz), etc. is what keeps me returning time and time again." To give you an idea of how much locals love this place, Ichabod's is located in the once thrivng Renaissance III Shopping Center located at East Flaming Road and Pecos-McLeod. However over the years this shopping center has lost nearly all of it's major anchor tennants (Hollywood Video, various grocery stores that have come and gone, Ace Hardware, etc.) and of course this has lead to nearly every small business either relocating or going out of busines. This once very popular shopping center in now almost completely empty…yet Ichabod's is still going strong.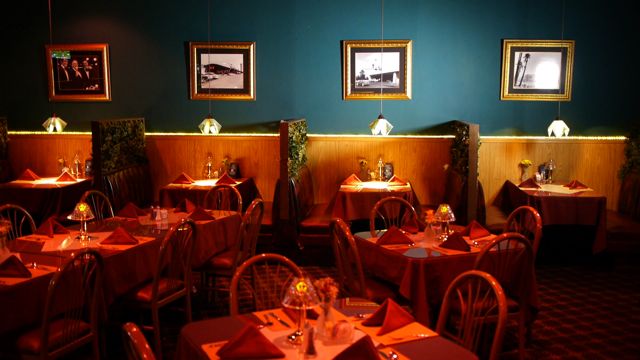 Golden Steer Steakhouse, Since 1958 – 308 W. Sahara Ave.
Do you find yourself missing the golden ages of Vegas when the Rat Pack, Elvis Presley and mobsters roamed the casino floors of the Las Vegas Strip? While the closest you will get to seeing such celebrities these days is in one of the celebrity impsonation shows, that dawn many a Vegas showroom, you can still get the feeling of going back to those days by paying a visit to the Golden Steer Steakhouse for an outstanding meal that comes with an "experience". The Golden Steer is the oldest steakhouse in town, opening it's doors in 1958, and while it isn't much to look at from the outside…once inside you will get the feeling of being back in the days when Las Vegas was about elegance, glitz and glamour. Fronzen in time, the Golden Steer features plush red leather banquette style booths with many having name plaques to indicate the favorite table of some of it's most famous clientele…even ole blue eyes, Frank Sinatra himself, had a favorite booth at the Steer. Many of the waiters, which still dress in tuxedos to this day, have been working here for decades and just wait till they prepare your caesar salad and/or cherries jubilie, right at your tableside, try finding that sort of service and elegance in one of the modern Las Vegas restauants. The Golden Steer is upscale, old school Vegas dining at it's best.
Pamplemouse, Since 1976 – 400 E. Sahara Ave.
How about something a little different, like maybe a romantic French restaurant, yet with an experience that will make you feel as though you justPamplemousse Restaurant in Las Vegas – The Goad Team jumped out of the DeLorean time machine from Back to the Future to the elegance of Vintage Vegas…then look no further than Georges LaForge's Pamplemousse Le Restaurant. John Goad, Jr. stated "I have driven by the pink Pamplemouse sign hundreds, if not thousands, of times throughout my life. As a child I got it in my mind that it was a florist for some reason. One day while driving by, I decided to finally take a peak inside…and I am so glad I did. The Pamplemouse has become one of my all time favorite restaurants." From the lighting, ceiling fans, French music (piano and saxophone instrumentals), dark wood paneling and tuxedo clad waiters, everything about this Las Vegas classic adds to it's quaint, romantic and old school dining experience…with quite possibly the best French cuisine in Sin City.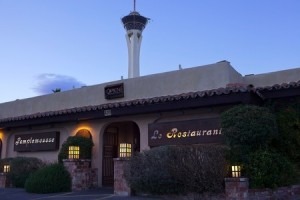 Hugo's Cellar at The Four Queens, Since 1973 – 202 Fremont St.
Looking for the most romantic restaurant in Vegas? Then look no further then Hugo's Cellar at the Four Queens Hotel and Casino in downtownHugo's Cellar – The Goad Team Las Vegas. From the moment you step down into the cellar, you will immediately see why this restaurant is consistently voted as the most romantic in Las Vegas…as you will be greeted with a long-stemmed rose for the ladies in your party. With it's brick walls, wait staff in tuxedos, old school paintings, antique chandeliers vintage colored carpeting and deep booths, this Las Vegas locals favorite will have you stepping back in time to the 1970's when elegance, sophistication and exquisite service was the norm, not the exception, when dining in Vegas. Not sure what wine to order with dinner? No problem, Hugo's has you covered with a master sommelier to help you choose exactly the right wine for your dining experience, and most of the waiters have been with Hugo's for many decades now. Hugo's has long been best known for it's amazing prime rib, however everything on the menus is exquisite. Although Hugo's has many desert choices, you will want to make sure to save room for the tableside show. Be sure to order the Bananas Foster or Cherries Jubilee so that you can watch as your waiter prepares your scrumptious desert, complete with sparks and fire, right at your table. Hugo's is a hidden gem, many people have difficulty finding it, however it is a true Vegas classic that is well worth the search.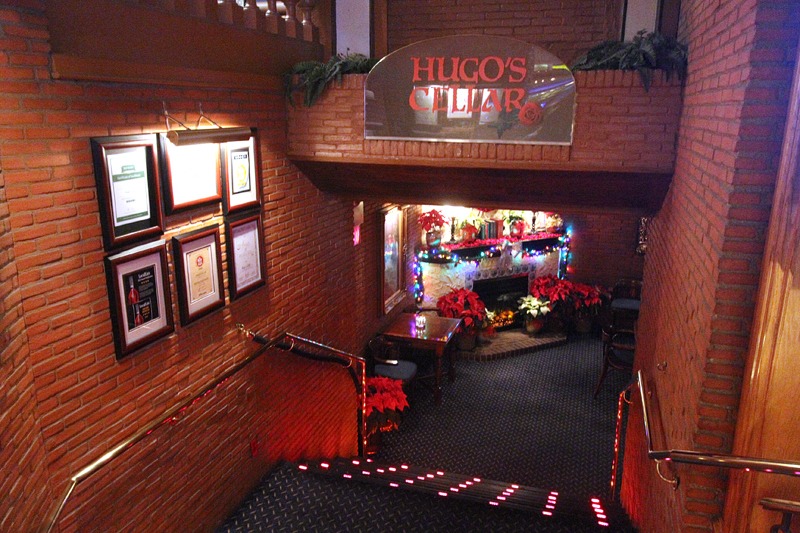 Chicago Joes, Since 1975 – 820 S. 4th St.
Located in Downtown Las Vegas, Joe's has been a locals favorite ever since this 1933 brick home was converted into a restaurant back in 1975. Chicago Joe's – The Goad TeamOnce a favorite of local mobsters (many being from Chicago) long time Las Vegans often refer to it as "our little hidden secret." So what makes it so "hidden" when it is right out in the open? Perhaps it's because with its red-brick exterior, small porch and white shutters on the front windows it could still be mistaken for someone's home…if it were not for the "Chicago Joe's" signage -or- maybe it's because it is off the beaten path and yet still a stones throw from the Fremont Street Experience. Whatever the reason, Joe's is a place one has to experience in person, as any words or pictures cannot capture the essence of this little gem. The decor has been described as quirky, charming, cheesy and yes sometimes even bizarre (after all you can't miss the Christmas lights that line the dining area year round) however for those that love Joe's, it's interior is half the fun. The food has always been great, in fact if you want fine dining Italian food, without the fine dining prices, in a more casual, laid back and fun atmosphere…then you will appreciate Joe's just as much as long time locals do.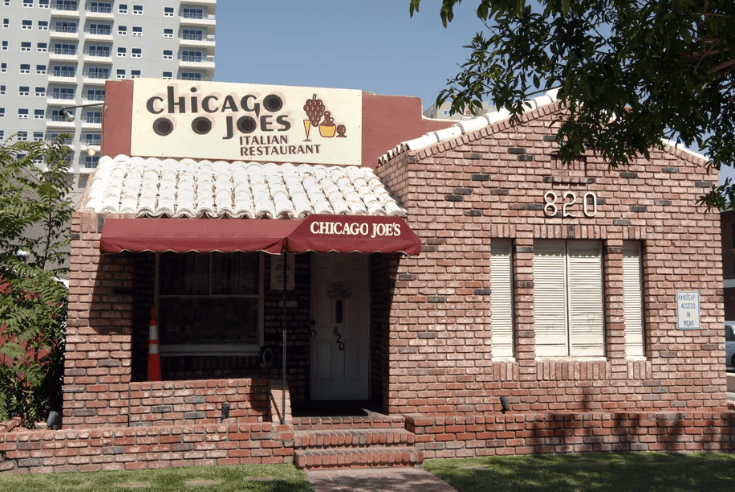 Bob Taylors Ranch House, Since 1955 – 6250 Rio Vista St.
A Las Vegas Tradion since 1955, Bob Taylors Ranch House will give you the feeling of steping back in time to when Las Vegas was run by cowboys and Bob Taylor's Ranch House – The Goad Teammobsters. This westerned themed restaurant is one of the oldest Las Vegas restaurants still in existance today, which is quite a feat in a town known for demolishing it's history in order to rebuild everything even bigger and more extravegant. Before Las Vegas went through many builing booms (and the city expanded into the area now known as the Norhtwest part of the Las Vegas valley) the Ranch House was once known to locals as "that restaurant located WAAAAAYYYYYY out there in the middle of nowhere." Back in the day it was not unusual to see notable Las Vegas Strip headliners like Siegfried and Roy, Mayors Oscar and Carolyn Goodman, legendary Sheriff Ralph Lamb, members of the Rat Pack and of course mobsters dining at the Ranch House. Antique wester movie posters and saddles still adorn the walls in this vintage Vegas classic, and the food is nothing short of mouth watering. So if you are craving a little "old school Las Vegas atmosphere" as well as some of the best steaks in town, then get out to Bob Taylor's Ranch House for rootin tootin good time.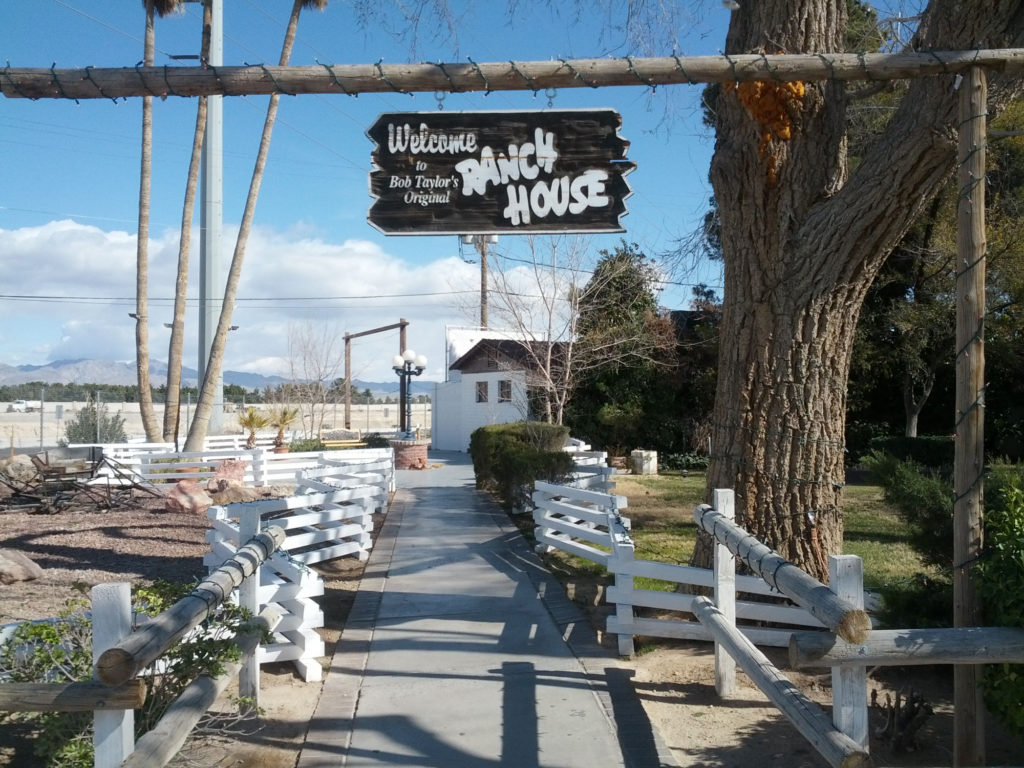 Thunderbird Boutique Hotel and Lounge
Mob Locations
Tony (The Ant) Spilotro's Home – 4675 Balfour Drive
Tony (The Ant) Spilotro has gone down in history as one of Las Vegas most notorious organized crime figures. Tony was depicted by Joe Pesci (Nicholas "Nicky" Santoro, character name) in the 1995 hit movie "Casino" which highlighted much of his mob activity. He became a made man in 1963, and in the early 1970's Chicago mob bosses sent Tony to Las Vegas to watch over the the mob's hotel and casino involvments. Due to Tony's short 5'2″ stature he was given the street name "The Ant" however his height certainly did not hold him back from becoming known as one of the most ruthless mobsters Vegas had ever seen. So much so that he also became known as "Tough Tony" and even law enforcment was leery of him, often times looking the other way. That is until Tony's actions eraned him a spot in the Nevada Gaming Control Boards famous "Blackbook" which barred him from entering any casino in Nevada. Even the mob had enough of Tony's out of control actions, and on June 23, 1986 Tony and his brother Michael were brutally beaten to death, then buried in an Indiana corn field. The beating was depicted in the movie Casino and at the time it was considered such a brutal scene, that it almost had to be altered to be featured in the movie. To the right is a picture of Tony's former home as it looks today.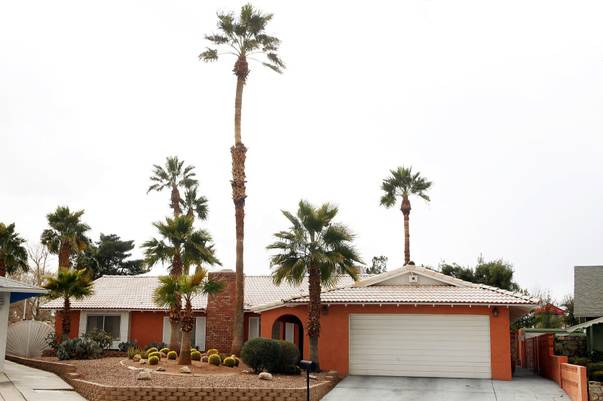 Frank (Lefty) Rosenthal's Home
972 Vegas Valley Drive
Mob Hit Site, Heritage Square Townhouses – Herbert "Fat Herbie" Blitzstein's Home
3655 Mount Vernon Ave.
Former Benny Binion Home
2040 W. Bonanza Road
Tony Roma's Restaurant (Now a Hustler Store)
620 E. Sahara Ave.
Bertha's Jewelry (Now Tower of Jewels)
896 E. Sahara
Gold Rush Jewelry Store – Owned by mobster Tony (The Ant) Spilotro
228 W. Sahara Ave.
My Place Bar – Owned by mobster Tony (The Ant) Spilotro
4110 S. Maryland Parkway (Now Favorites Bar)
Upper Crust Restaurant – Owned by mobster Frank Cullotta.
4110 S. Maryland Parkway
Tower of Pizza
Where the Cosmopolitan Resort now sits